A National Park in India is a protected area to propagate or develop wildlife and its environment. There are a total of 106 National Parks in India. These protected Parks cover an area of 44,403 sq km which is 1.35 % of the total geographical area of India.
The first National Park was established in 1936 as Hailey National Park which is now known as Jim Corbett National Park. It is located in Uttarakhand state.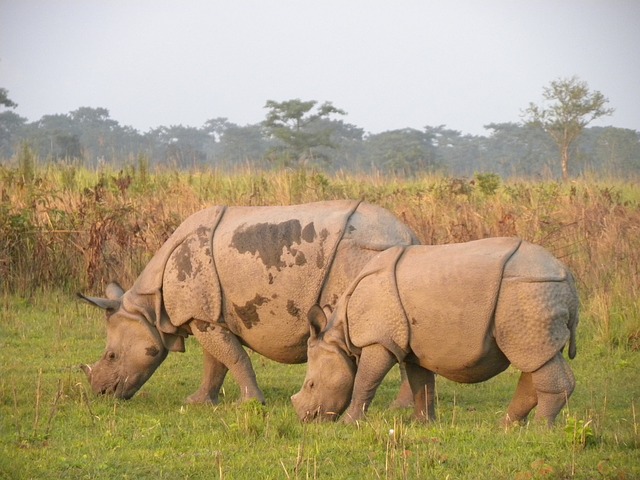 List of all the National Parks in India
Andaman & Nicobar Islands
Campbell Bay NP- 426.23 sq km
Galathea Bay NP- 110 sq km
Mahatama Gandhi Marine (Wandoor) NP- 281.5 sq km
Middle Button Island NP- 0.44 sq km
Mount Harriett NP- 46.62 sq km
North Button Island NP- 0.44 sq km
Rani Jhansi Marine NP- 256.14 sq km
Saddle Peak NP- 32.54 sq km
South Button Island NP- 0.03 sq km
Andhra Pradesh
Papikonda NP- 1012.86 sq km
Rajiv Gandhi (Rameswaram)- NP 2.4 sq km
Sri Venkateswara NP- 353.62 sq km
Arunachal Pradesh
Mouling NP- 483 sq km
Namdapha NP- 1807.82 sq km
Assam
Dibru-Saikhowa NP- 340 sq km
Kaziranga NP- 858.98 sq km
Manas NP- 500 sq km
Nameri NP- 200 sq km
Rajiv Gandhi Orang NP- 78.81 sq km
Raimona NP- 422 sq km
Dehing Patkai NP- 234.26 sq km
Bihar
Chhattisgarh
Guru Ghasidas (Sanjay) NP- 1440.705 sq km
Indravati (Kutru) NP- 1258.37 sq km
Kanger Valley NP- 200 sq km
Goa
Gujarat
Vansda NP- 23.99 sq km
Blackbuck (Velavadar) NP- 34.53 sq km
Gir NP- 258.71 sq km
Marine (Gulf of Kachchh) NP- 162.89 sq km
Haryana
Kalesar NP- 46.82 sq km
Sultanpur NP- 1.43 sq km
Himachal Pradesh
Great Himalayan NP- 754.4 sq km
Inderkilla NP- 104 sq km
Khirganga NP- 710 sq km
Pin Valley NP- 675 sq km
Simbalbara NP- 27.88 sq km
Jammu & Kashmir
City Forest (Salim Ali) NP- 9 sq km
Dachigam NP- 141 sq km
Kishtwar NP- 425 sq km
Jharkhand
Karnataka
Anshi NP- 417.34 sq km
Bandipur NP- 874.2 sq km
Bannerghatta NP- 260.51 sq km
Kudremukh NP- 600.32 sq km
Nagarahole (Rajiv Gandhi) NP- 643.39 sq km
Kerala
Anamudi Shola NP- 7.5 sq km
Eravikulam NP- 97 sq km
Mathikettan Shola NP- 12.82 sq km
Pambadum Shola NP- 1.318 sq km
Periyar NP- 350 sq km
Silent Valley NP- 89.52 sq km
Ladakh
Hemis NP- 3350 sq km
Fun fact : Hemis National Park in Jammu and Kashmir is the largest National Park in India having an area of 3350 sq km.
Madhya Pradesh
Bandhavgarh NP- 448.85 sq km
Dinosaur Fossils NP- 0.8974 sq km
Fossil NP- 0.27 sq km
Indira Priyadarshini Pench NP- 292.85 sq km
Kanha NP- 940 sq km
Madhav NP- 375.22 sq km
Panna NP- 542.67 sq km
Sanjay NP- 466.88 sq km
Satpura NP- 585.17 sq km
Van Vihar NP- 4.45 sq km
Maharashtra
Chandoli NP- 317.67 sq km
Gugamal NP- 361.28 sq km
Nawegaon NP- 33.88 sq km
Pench (Jawaharlal Nehru) NP- 257.26 sq km
Sanjay Gandhi (Borivilli) NP- 86.96 sq km
Tadoba NP- 116.55 sq km
Manipur
Meghalaya
Balphakram NP- 220 sq km
Nokrek Ridge NP- 47.48 sq km
Mizoram
Murlen NP- 100 sq km
Phawngpui Blue Mountain NP- 50 sq km
Nagaland
Odisha
Bhitarkanika NP- 145 sq km
Simlipal NP- 845.7 sq km
Rajasthan
Desert NP- 3162 sq km
Keoladeo Ghana NP- 28.73 sq km
Mukundara Hills NP- 200.54 sq km
Ranthambhore NP- 282 sq km
Sariska NP- 273.8 sq km
Sikkim
Khangchendzonga NP- 1784 sq km
Tamil Nadu
Guindy NP- 2.82 sq km
Gulf of Mannar Marine NP- 6.23 sq km
Indira Gandhi (Annamalai) NP- 117.1 sq km
Mudumalai NP- 103.23 sq km
Mukurthi NP- 78.46 sq km
Telangana
Kasu Brahmananda Reddy NP- 1.43 sq km
Mahaveer Harina Vanasthali NP- 14.59 sq km
Mrugavani NP- 3.6 sq km
Tripura
Clouded Leopard NP- 5.08 sq km
Bison (Rajbari) NP- 31.63 sq km
Uttar Pradesh
Uttarakhand
Corbett NP- 520.82 sq km
Gangotri NP- 2390.02 sq km
Govind NP- 472.08 sq km
Nanda Devi NP- 624.6 sq km
Rajaji NP- 820 sq km
Valley of Flowers NP- 87.5 sq km
West Bengal
Buxa NP- 117.1 sq km
Gorumara NP- 79.45 sq km
Jaldapara NP- 216.51 sq km
Neora Valley NP- 159.89 sq km
Singalila NP- 78.6 sq km
Sunderban NP- 1330.1 sq km
Top 10 most famous National Parks in India
Kaziranga National Park
Famous for its great Indian one-horned Rhinoceros, Kaziranga National Park is located in Assam. The park was formed in 1908 and was declared a UNESCO World Heritage site in 1985. Additionally, the park was declared a tiger reserve in 2006 after the tiger population saw significant growth. The park covers an area of 858.98 sq km.
There are more than 2,200 Indian rhinoceroses in the park, meaning almost 2/3rd of the total Indian rhinoceros in the world reside in Kaziranga National Park. The tall elephant grass and the marshland provide a perfect home for the Rhinos. The part also hosts many migratory bird species like the lesser white-fronted goose, ferruginous duck, Baer's pochard duck, Asian Openbill stork, etc.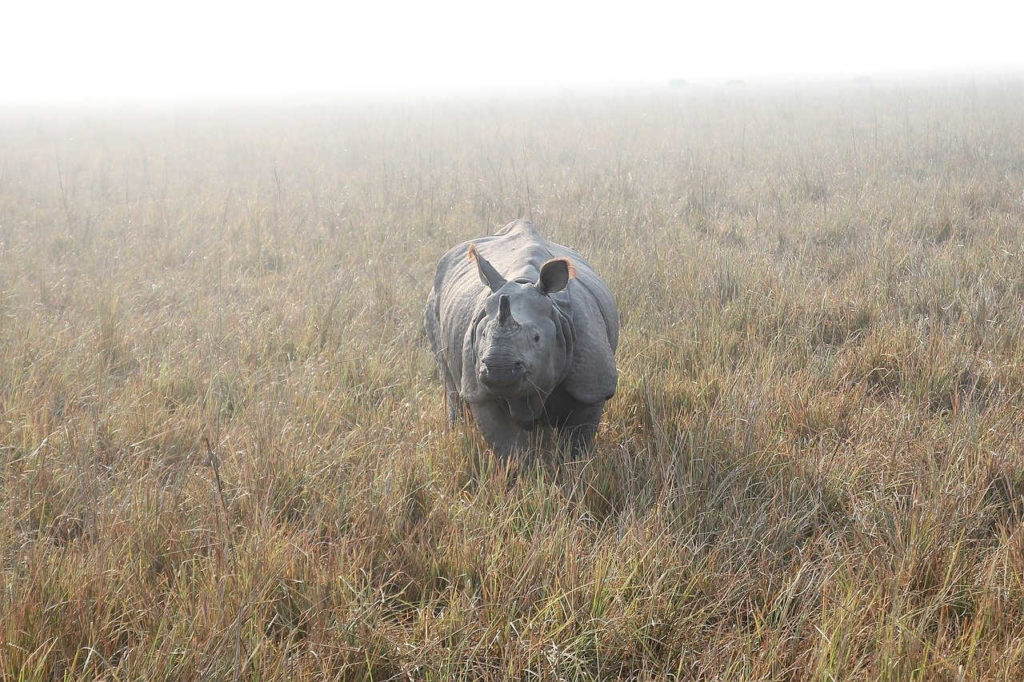 The best time to visit Kaziranga National Park is from November to April (Winter and Spring). Summers are harsh with hot and dry weather and in the monsoons, there is a great chance of flooding because of the Brahmaputra river, hence the park remains closed.
Sunderbans National Park
Sunderbans National Park of West Bengal is located in the Sunderbans delta (Ganges delta), the largest river delta in the World. The delta is home to the largest mangrove forest in the world. Around 60 percent of the delta is in Bangladesh and the rest in India.
The National Park was established in 1984 and covers an area of 1330.1 sq km. Famous as the fortress of the Royal Bengal Tiger, the park is both a tiger as well as a biosphere reserve. Getting a glimpse of the King is rare so don't go to the park just to sight the Tiger. There is a lot of enthralling wildlife you can see.
Just like Kaziranga National Park, the best time to visit Sunderbans is in winter and spring.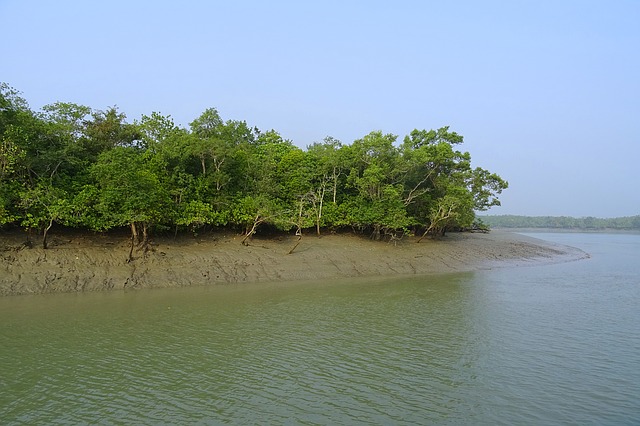 Gir National Park
Gir National Park is the only place left on Earth where you can find Asiatic Lion roaming freely without any bars. The park is located in Gujarat and was established in the year 1980. The total area of the park is 258.71 sq km and is home to 523 lions (according to a 2015 survey).
Apart from Lion, other faunas of the park include the Striped hyena, Indian fox, Jackal, and the threatened Chousingha.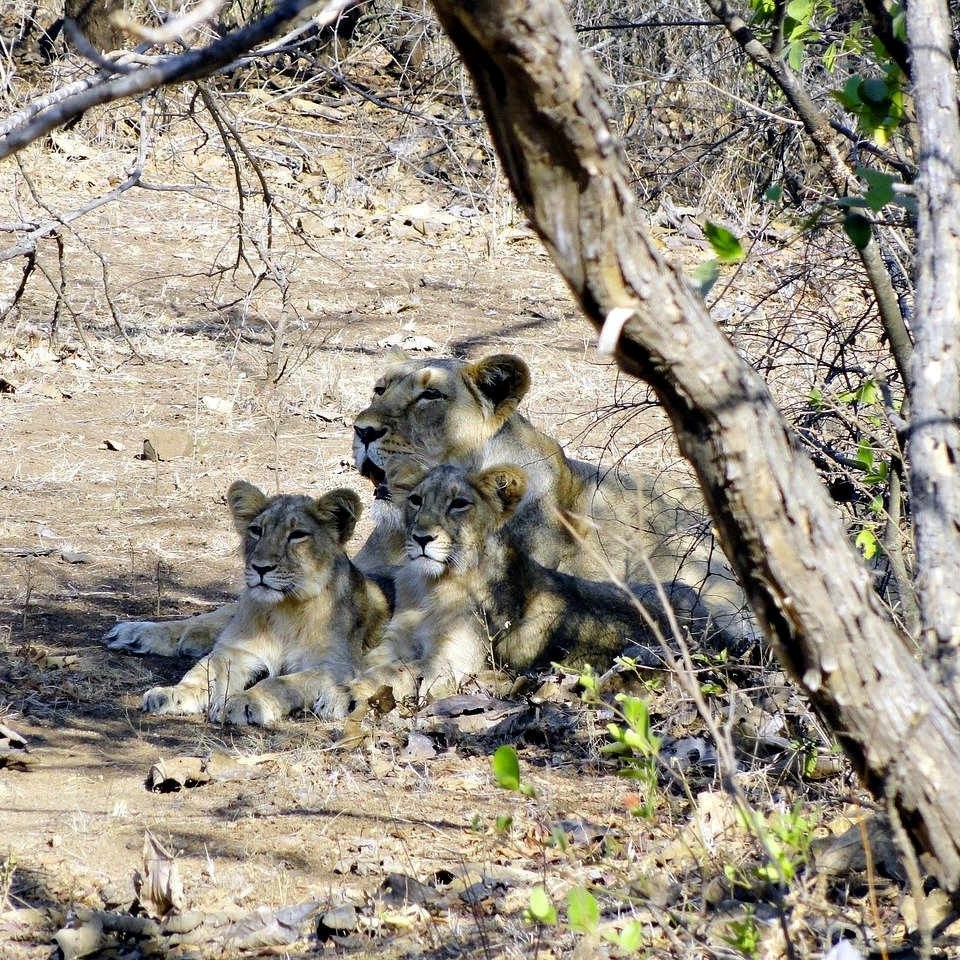 If you are planning to visit Somnath Temple add a few days to your trip and visit the Gir National Park. For wildlife lovers, Gir is a must-go place as we don't know what the future beholds for the magnificent species.
Kanha National Park
Coming on the list of most famous National Parks in India as no surprise, Kanha National Park in the state of Madhya Pradesh is the foremost destination for Tiger lovers. Spread across 940 square kilometers, the park came into existence in 1978. It is one of the largest National Parks in India.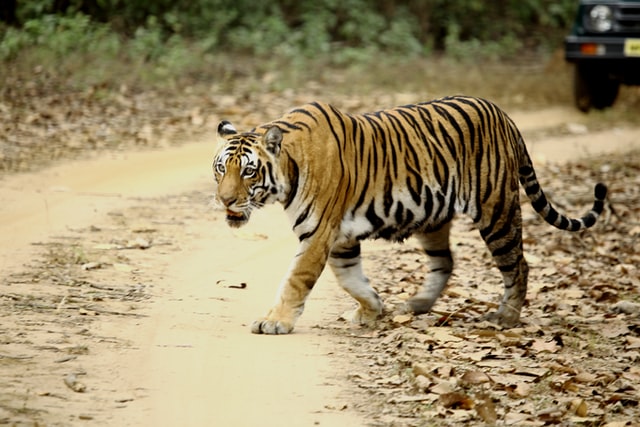 If you are a nature lover, this jungle in the Satpuras is the place to go. The peace and serenity, coupled with the thrill of watching a Tiger will provide you with an experience of a lifetime. Kanha National Park also provides a home to the extremely rare Barasingha. The jungle was the inspiration for Rudyard Kipling to write the famous "The Jungle Book".
Bandhavgarh National Park
Another famous National Park in Madhya Pradesh, Bandhavgarh is located in the Vindhya Range. It was established in 1981 and is spread across 448.85 sq km.
The park is known for its high density of Tigers. Other carnivores like leopards and striped hyenas are also present in considerable numbers. The park remains closed in the monsoon season from 1 July to 15 October. The best time to visit is from October to mid-March. The winters can get really cold. It is advised to carry woolen clothing.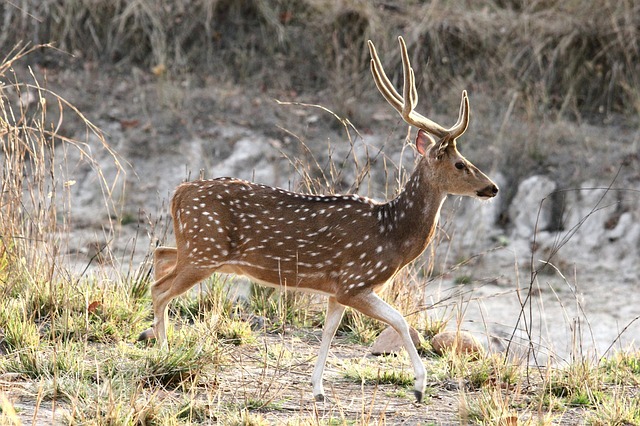 Jim Corbett National Park
Jim Corbett is the oldest National Park in India. It was established in the year 1936 as Hailey National Park. The Park has the highest Tiger population of all National parks in India. Located in Uttarakhand foothills of the Himalayas, Jim Corbett National Park is known as the birthplace of "Project Tiger" and has played an important role in maintaining and increasing the Tiger population.
To reach Jim Corbett, you need to reach Ramnagar which is well connected via Roads and Railways with nearby big cities Delhi, Moradabad, Haldwani, and Bareilly.
Periyar National Park
Periyar National Parks is located in the misty mountains of the Western Ghats in the state of Kerala. The Western Ghats is one of the very few biological hotspots in the world. Hence, there is a ton of flora and fauna that you can see in the park.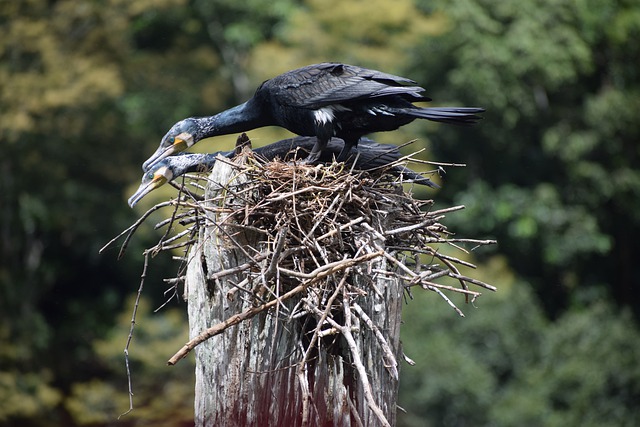 Covering an area of 350 sq km, the park was established in 1982. The Western Ghats receive a lot of rain during the monsoon season. The best time to visit the Periyar National park is from October to May. Periyar National Park is one of the most visited National Parks in the country.
Ranthambore National Park
Ranthambore National Park was established in 1980. The park covers an area of 282 sq km. The forest was once the primary hunting ground for the Maharajas of Jaipur and nearby areas.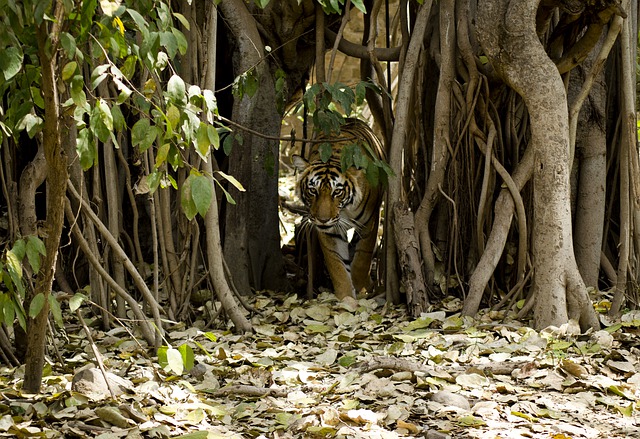 Ranthambore National Park is famous all over the world especially because of Machli, the Tigress who lived for 20 years. Machli is popularly known as the "Crocodile killer" as she killed many big crocodiles in her lifetime. Like many National Parks in North India, the best time to visit Ranthambore is from October to Mid March.

Nanda Devi and Valley of Flowers National Parks
A UNESCO world heritage site, Nanda Devi and Valley of Flowers National Parks are located in Uttarakhand. The Nanda Devi National Park and Valley of Flowers National Park are two different areas, now jointly known.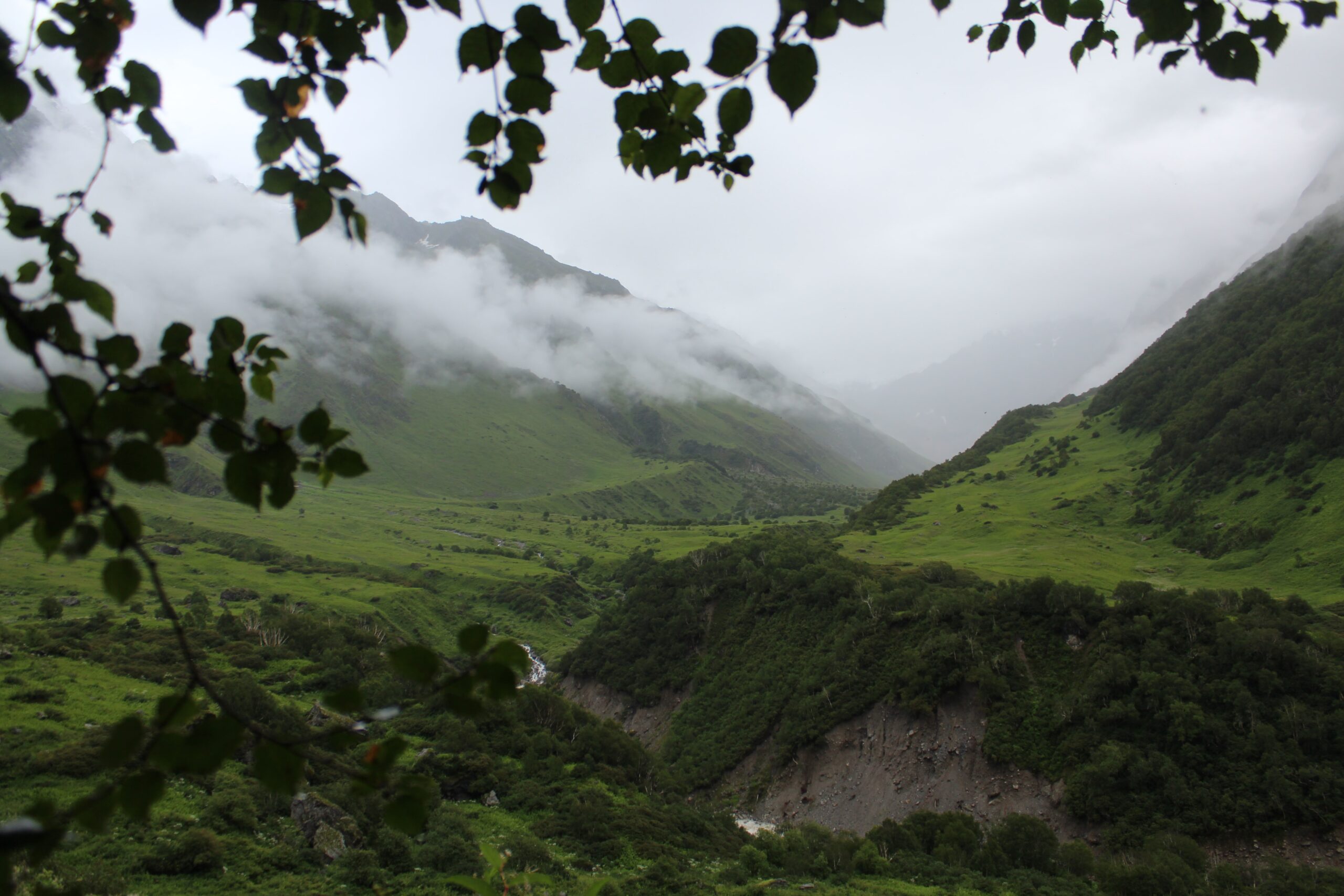 The parks have a combined area of 712.1 sq km. Many endangered species like the brown bear, Asiatic black bear, and the snow leopard find a safe home in the lap of majestic Nanda Devi mountain. The peak stands at a staggering height of 7,816 meters. The area receives heavy snow in the winter and thus remains closed from November to April. The best time to visit is from mid-June to mid-September.
Great Himalayan National Park
The Great Himalayan National Park of Himachal Pradesh was established in 1962. It covers an area of 754.4 sq km. Another UNESCO world heritage site on this list, the park is spread across 4 valleys – Parvati, Tirthan, Sainj, and Jiwa Nal. The park is a famous trekking destination (provided you have a permit) and allows you to experience the essence of the Himalayas from a very close distance.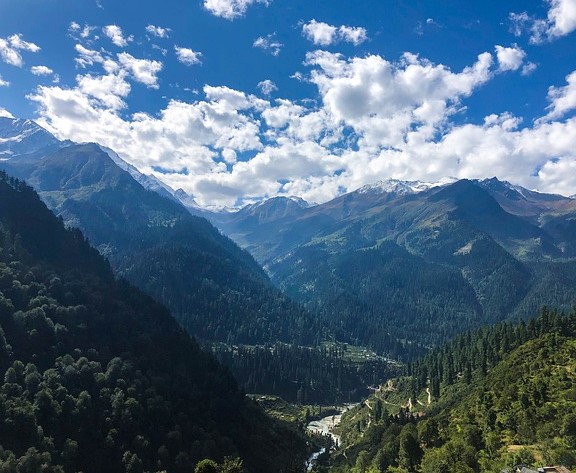 ---
Read more