France and Germany are two neighboring countries in Western Europe. This is a comparison between these two countries. Let's read.
France vs Germany – country comparison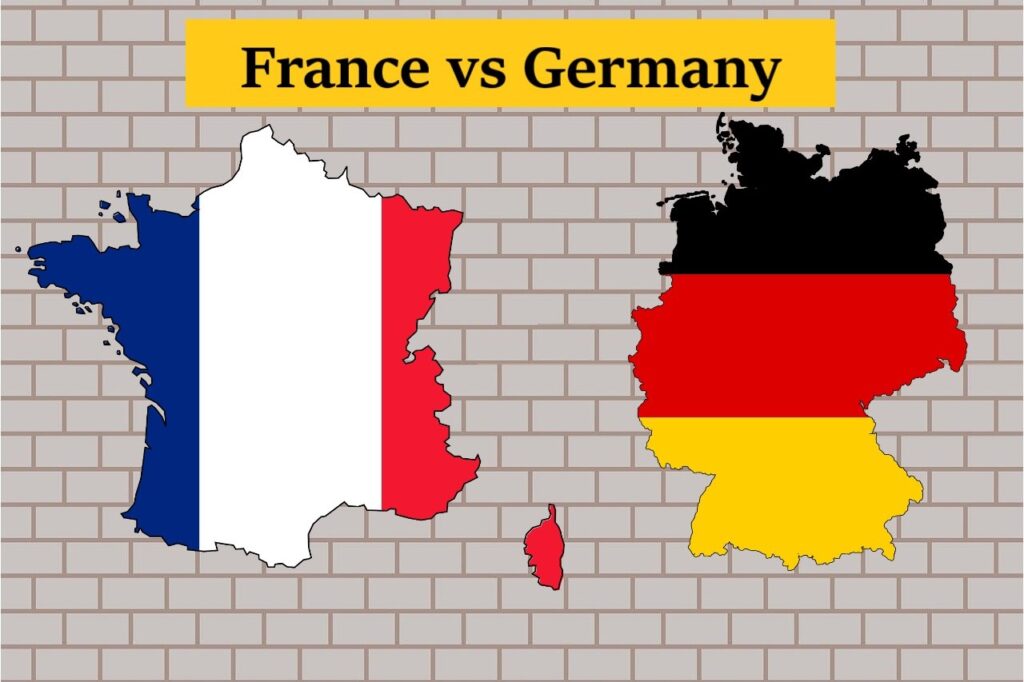 Which country is bigger, France or Germany?
France is the third largest country in Europe. It is 1.5 times bigger than Germany.
Area of France – approximately 551,500 square kilometers (European France)
Area of Germany – approximately 357,000 square kilometers
Which country has a larger population, France or Germany?
Although France is larger in area, Germany has a larger population. This also means Germany is more densely populated.
Population of France – 66 million (2023 estimate)
Population of Germany – 84.5 million (2023)
Top 3 largest cities by population
France
Paris
Marseille
Lyon
Germany
Berlin
Hamburg
Munich
Overview
| | | |
| --- | --- | --- |
| | France | Germany |
| Area | approximately 551,500 square kilometers (European France) | approximately 357,000 square kilometers |
| Region | Western Europe | Western Europe |
| Population | 66 million (2023 estimate) | 84.5 million (2023) |
| Currency | Euro | Euro |
| Capital City | Paris | Berlin |
| Largest City | Paris | Berlin |
| Most spoken language | French | German |
| Most popular sport | Football (Soccer) | Football (Soccer) |
| Type of government | Unitary semi-presidential republic | Federal democratic parliamentary republic |
| Life expectancy (UN/2021) | 82.5 | 80.6 |
| Busiest Airport | Charles de Gaulle Airport (serves Paris Metropolitan area) | Frankfurt Airport |
| Largest Metropolitan area | Paris Metropolitan area | Rhine-Ruhr metropolitan region |
Geography
| | | |
| --- | --- | --- |
| | France | Germany |
| Highest mountain | Mont Blanc (4,809 meters) | Zugspitze (2,962 m/9,718 ft) |
| Major Rivers | Loire , Seine, Garonne, Rhône, Dordogne, Charente, Adour, etc | Rhine, Elbe, Danube, Oder, Moselle, Main, Inn, etc |
| Longest River | Loire | Rhine |
| Largest Island | Corsica (European France) (8,720 square kilometers), Grande Terre of New Caledonia (Overseas France) (16,372 square kilometers) | Rügen (925 square kilometers) |
(Also read: France and Spain – country comparison | France vs Spain)
Tourism
| | | |
| --- | --- | --- |
| | France | Germany |
| Places to visit | Paris, Bordeaux, Nice, Provence, Marseille, Strasbourg, Lyon, etc | Berlin, Munich, Frankfurt, Hamburg, Cologne, Dresden, Düsseldorf, etc |
| Number of UNESCO World Heritage Sites | 49 | 51 |
| Most visited city | Paris | Berlin |
(Also read: USA and Germany – country comparison | USA vs Germany)
Flags