The Great Indian one-horned rhinoceros is one of the five species of Rhinos. Classified as vulnerable by the International Union for Conservation of Nature (IUCN), there are only a few thousand Indian Rhinos living in the wild.
Historically, these Rhinos were found in a large geographical range, from Pakistan to Arunachal Pradesh in the Indo-Gangetic and Brahmaputra basins. Now they are found only in a few protected environments mainly in the Eastern and northeastern regions of India and in the Terai belt.
The Great Indian rhinoceros is about the same size as the African White Rhino. These two species are the largest among all extant Rhino species. Unlike the African White Rhino, Indian Rhinos have one horn over their snout. The Indian Rhinos have multiple skin folds which help in regulating the body temperature.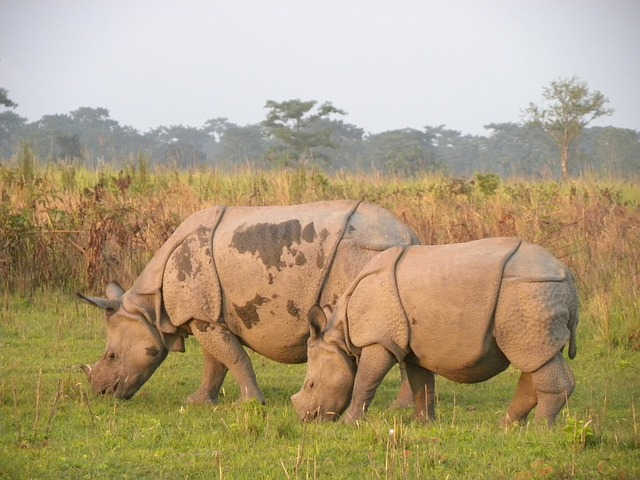 The horn is made up of pure Keratin protein and is found in both males and females. Male one-horned Rhinos are larger and easily weigh over 2,000 kilograms (2 tonnes). Indian Rhinos live for an average of about 40 years in the wild.
Best Place to see the Indian Rhinoceros
The best place to see Indian Rhinoceros is the Kaziranga National Park in Assam. Spread across 430 square kilometers, Kaziranga National Park is home to over 2,500 Rhinos. More than 2/3 of the total Indian Rhino population in the world finds a home in Kaziranga.
The population on the rise
The efforts to increase the Rhino population have seen significant success in the recent past. The population is on the rise in almost every National Park in India. There were 46 Rhinos reported in Dudhwa National Park of Uttar Pradesh. The population in Manas National Park of Assam has also crossed the 40-mark. The Jaldapara National Park in West Bengal hosts the second largest population. There were nearly 300 Rhinos reported in Jaldapara recently. Moreover, there are about 750 Rhinos present in the wild in Nepal.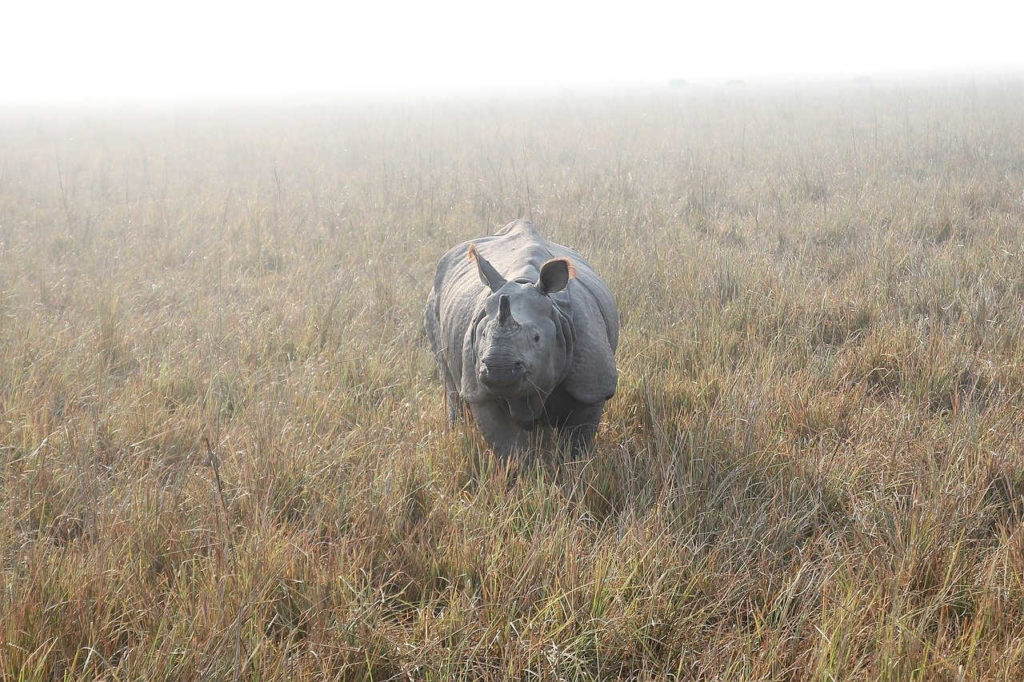 The story of Bankey
Bankey was born in Guwahati's Assam state zoo. Along with four other Rhinos, Bankey was relocated to Dudhwa National Park. At Dudhwa, he quickly became the Alpha male. Most of the Rhinos today in Dudhwa are children of Bankey. Bankey died in December 2016 at the record age of 49 due to age-related problems.
Importance of Rhinos in the ecosystem
The Rhinos are the second largest animal in the Indian subcontinent after the Asian elephants. They are considered the keystone species of the grassland ecosystem helping other animals, birds, and floral species in a number of ways.
| | |
| --- | --- |
| Binomial name | Rhinoceros unicornis |
| Weight | Over 2000 kilograms (males), 1500-1800 kilograms (females) |
| Countries | India, Nepal, and Bhutan |
| IUCN conservation status | Vulnerable |
---
Read more