The following is a comparison between Indonesia and Malaysia, two countries in Southeast Asia. Let's read.
Indonesia and Malaysia – country comparison
Which country is larger in area, Indonesia or Malaysia?
Indonesia is the largest country in southeast Asia. It is more than 5.7 times larger than Malaysia.
Area of Indonesia – approximately 1.9 million sq km
Area of Malaysia – approximately 329,850 sq km
Which country is more populous, Indonesia or Malaysia?
Indonesia is more populated as well as more densely populated as compared with Malaysia.
Population of Indonesia – over 275 million (2022)
Population of Malaysia – 32.5 million (2020)
Are there more islands in Indonesia or Malaysia?
Indonesia ranks among the countries with the most islands. In southeast Asia, it has the highest number of islands.
Number of islands in Indonesia – over 18,100
Number of islands in Malaysia – 878
Also read
| | | |
| --- | --- | --- |
| | Indonesia | Malaysia |
| Area | approximately 1.9 million sq km | approximately 329,850 sq km |
| Population | over 275 million (2022) | 32.5 million (2020) |
| Region | Southeast Asia and Oceania | Southeast Asia |
| Most spoken language | Indonesian language | Malaysian Malay |
| Most popular sport | Football and Badminton | Football and Badminton |
| Capital City | Jakarta | Kuala Lumpur |
| Largest City | Jakarta (Metro Population – 33.5 million/2021) | Kuala Lumpur (Metro Population – around 7.5 million/2020) |
| Currency | Indonesian Rupiah | Malaysian Ringgit |
| Highest mountain | Puncak Jaya (4,884 m) | Mount Kinabalu (4,095 m) |
| Type of government | Unitary presidential republic | Federal parliamentary constitutional monarchy |
| Life expectancy (UN/2021) | 67.6 | 74.9 |
| Largest Metropolitan area | Jakarta metropolitan area | Greater Kuala Lumpur |
| Number of Islands | over 18,100 | 878 |
| Major Rivers | Kapuas, Solo, Musi, Mahakam, Barito, Mamberamo, etc | Rajang, Kinabatangan, Pahang, Perak, Baram, Muar, etc |
| National Animal | Komodo dragon | Malayan tiger |
| National Bird | Javan hawk-eagle | Rhino hornbills |
| National Flower | Melati putih (Jasminum sambac) | Hibiscus rosa-sinesis |
| Busiest Airport | Soekarno–Hatta International Airport (serves Jakarta metropolitan area) | Kuala Lumpur International Airport |
Indonesia and Malaysia comparison table
Flag of Indonesia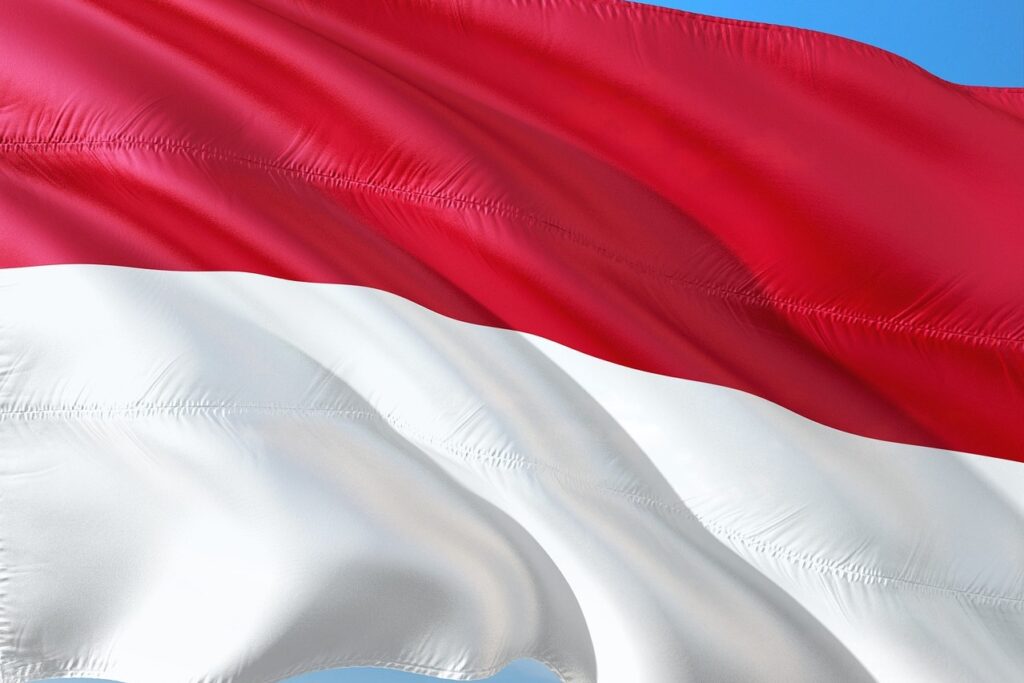 Flag of Malaysia